Stationary Store Promees
ul. Nawrot 2a, Łódź
Opening hours:
Mon - Fri: 14:00 - 19:00
Sat: 09:00 - 13:00
Stationary Store Promees
The only official Promees stationary store in Poland and in the world is located in Łódź on the famous Nawrot 2a street. It is the downtown, right next to Piotrkowska Street (the longest shopping street in Europe) and within a few hundred meters from the heart of the city: a cultural, entertainment and artistic center - OFF Piotrkowska Center.
Promees Boutique is the only place where you can see, touch, try on and buy the lingerie offered by the brand. The Promees stationary store is a response to the needs of customers in terms of seeing products live or choosing the right size. However, this is only a small fraction of what you can experience in this unique place.
"... the Promees stationary store is located in Łódź on the famous, ancient Nawrot 2a street ..."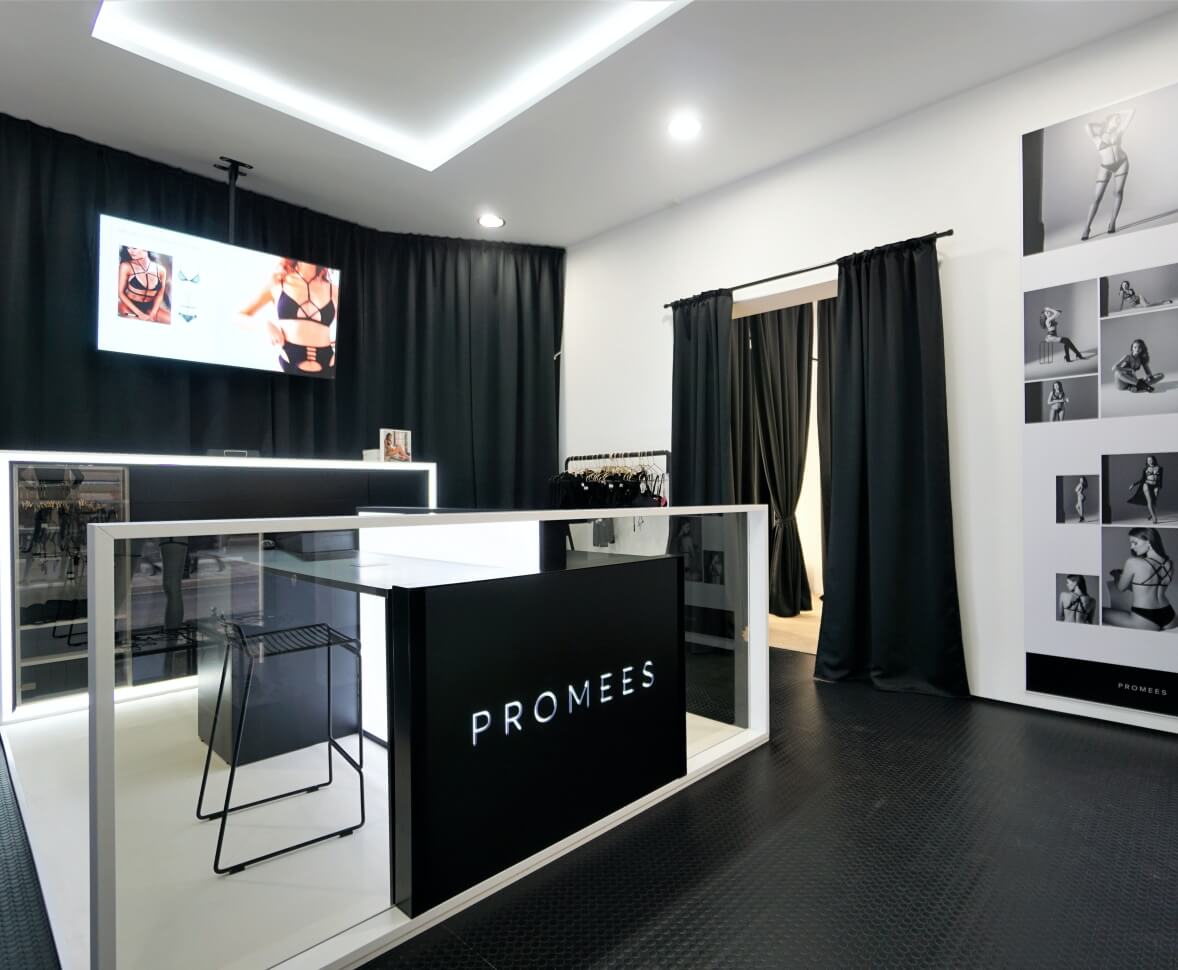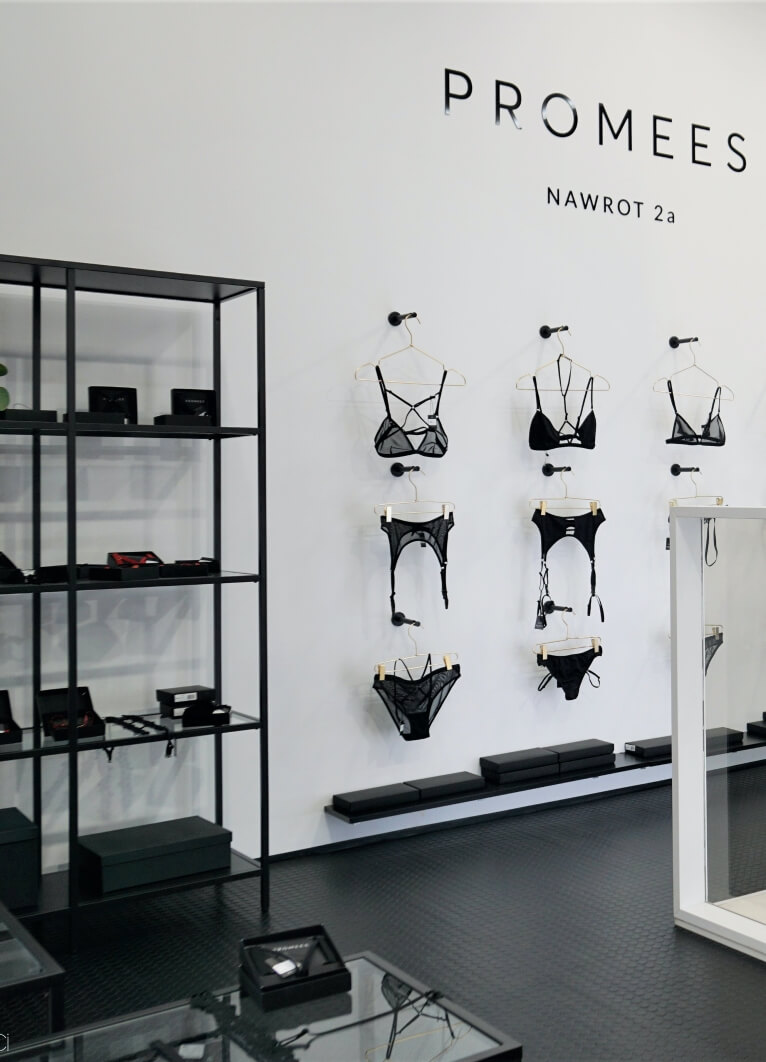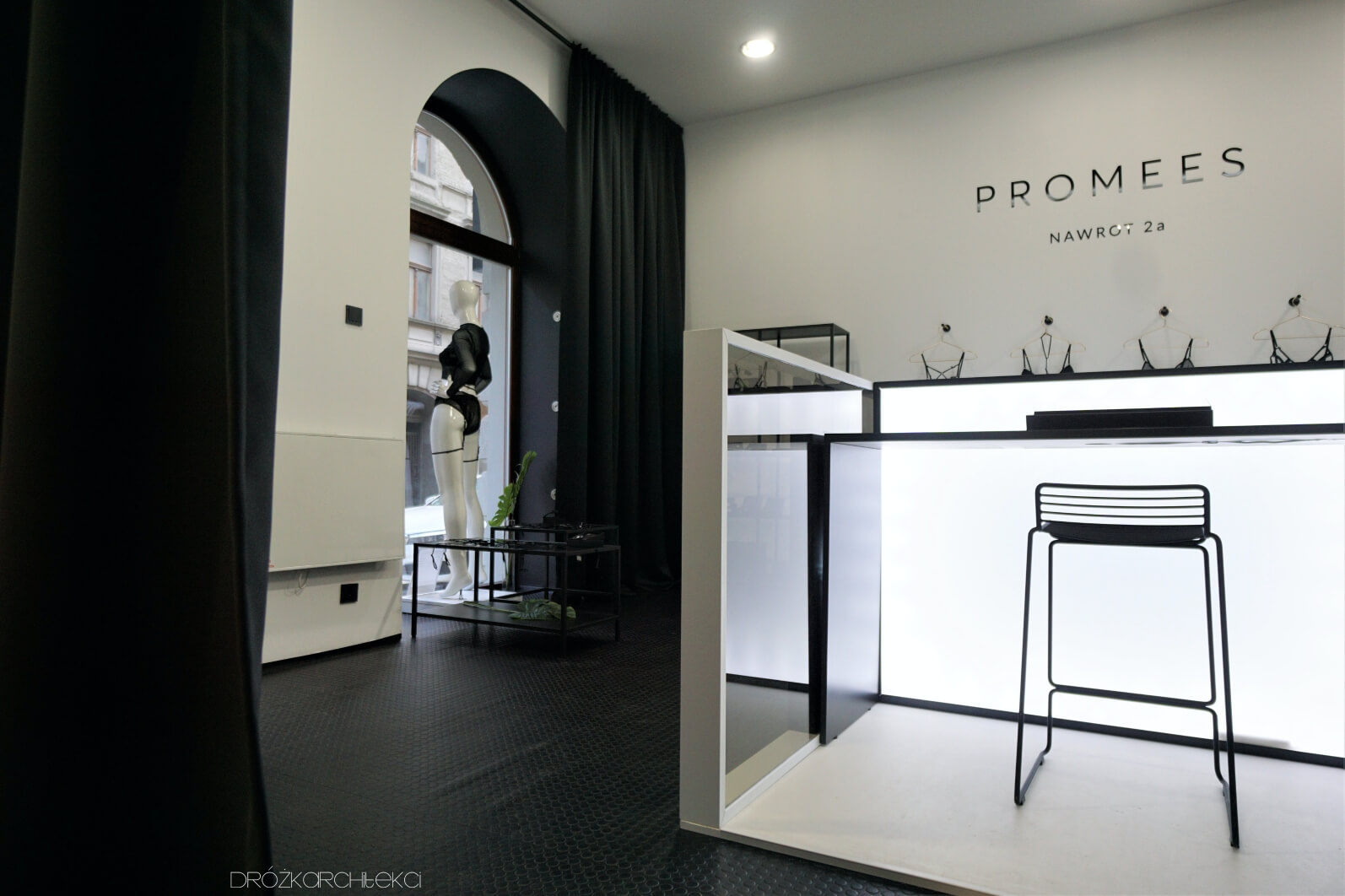 Promees Boutique is the brand's showcase
The idea that Promees products should also be in a stationary store established a year before implementation. At the beginning, it was a concept of modern and interactive island in a large shopping mall. At the beginning it was the concept of a modern and interactive trade stand in a large shopping center. However, after a month it turned out that it is not enough and the brand needs a place where customers will feel freely and natural, surrounded by the atmospheric style they have been used to over the years.
The Promees stationary store is a place for influencers, bloggers, brand fans, customers, models and more. On around 50 square meters, it was possible to place a specially designed sales stand equipped with interactive touch screens, allowing you to see all the products, their specs and descriptions. What's more, you can see how lingerie, clothing or accessories looks on models, to make it even easier to visualize the effect.
Dressing room with a unique swing
Each product in the Promees boutique can be easily tried on in a phenomenal dressing room. It has two fitting rooms equipped with large illuminated mirrors and one, huge, over 3-meter mirror, fitted with specially selected lighting with a neutral color, ideally suited for photos. 
In front of the fitting room there is a eminent panel with a black, handmade wooden swing, which perfectly reflects the brand's atmosphere. Its designer and contractor is the Polish company Qactus from the Warsaw area.
The Promees logo broidered on the swing, and right behind it, there is a white photo wall with the sentence: "I have enough lingerie - said no one ever", inverted so that it will form a readable text only when it is reflected in the mirror. In the dressing room there is also a place to attach your photo with Promees products printed on the spot. These photos are also published on the brand's Social Media channels, which currently have nearly half a million fans around the planet.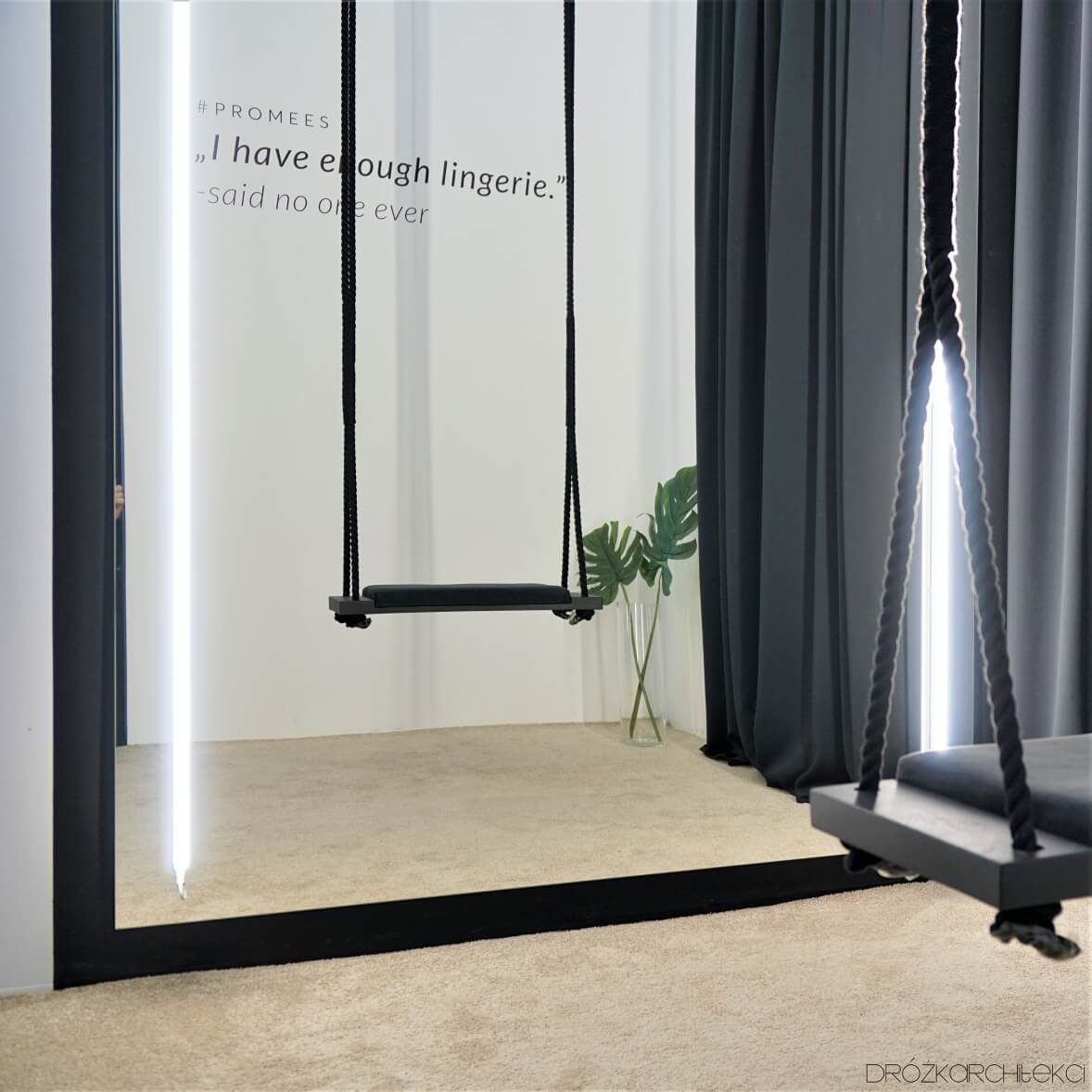 Main Hall
The sales room is primarily an exposition of products, but here we also decided to launch some unconventional solutions. In this way, we created slinding wall with 4 top Promees lingerie and a 3-meter poster with photos presenting the effects of one of the Promees collection photo sessions. A 65-inch screen descends from the ceiling, which displays current promotions and offers.
In order to maintain the style and intimate atmosphere of the store, we have used perfectly fitted black curtains, which give the whole an amazing effect of coziness and exclusivity. To achieve this effect, nearly 150 meters of material was used, which proves how much work was needed to complete the entire project.
Thus, the Promees stationary store is not only a boutique where the customer will try on and buy the product. It is a comfort zone that every woman deserves, who appreciates the style and perfectionism that the Promees brand has always put on.
Therefore, we cordially invite customers from all over the country and not only to Nawrot 2a Street, because no description or photo will fully convent the effect that you will experience when you cross the doorstep one and only Promees Lingerie boutique.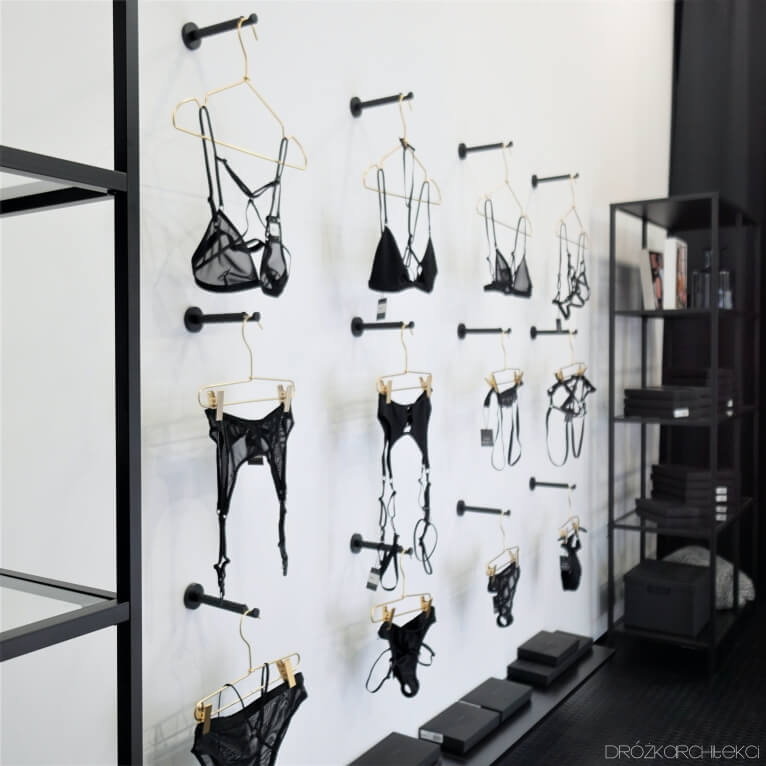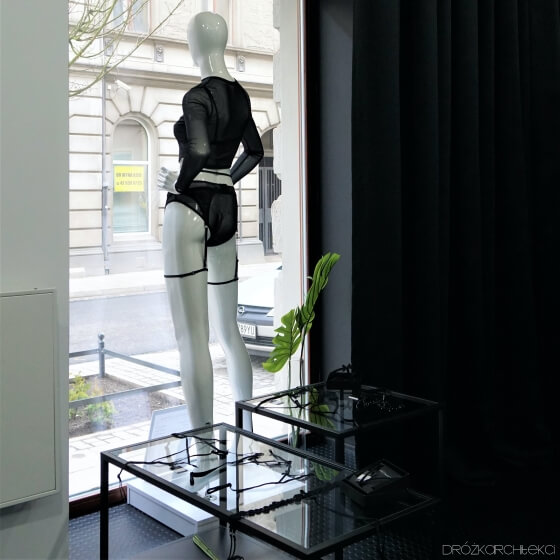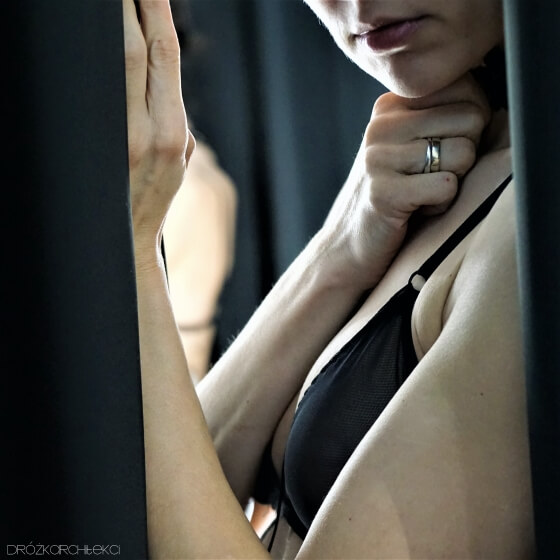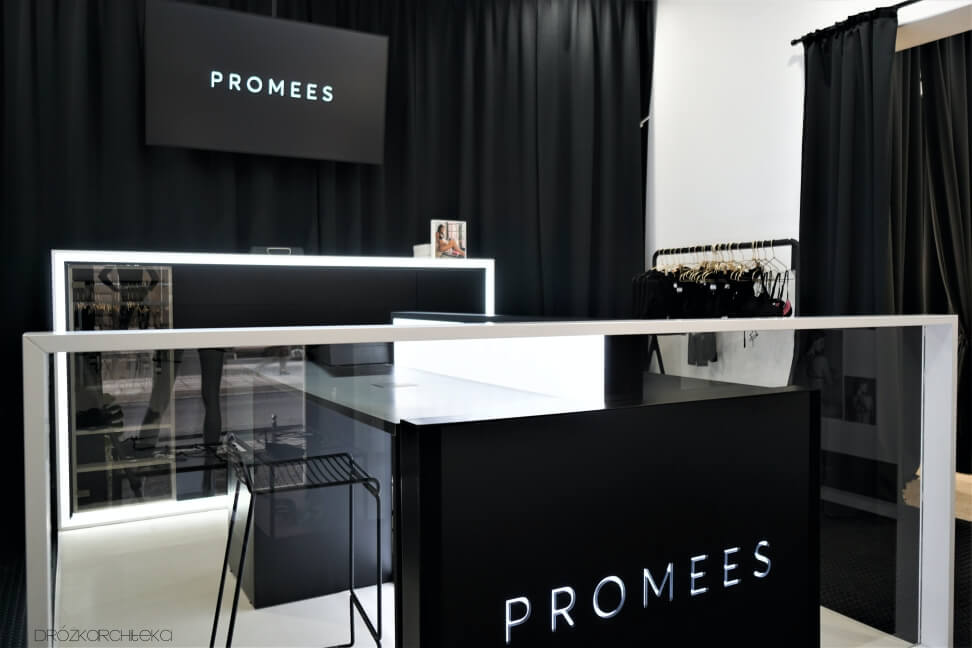 You just have to come here...
Take a look a virtual walk around our boutique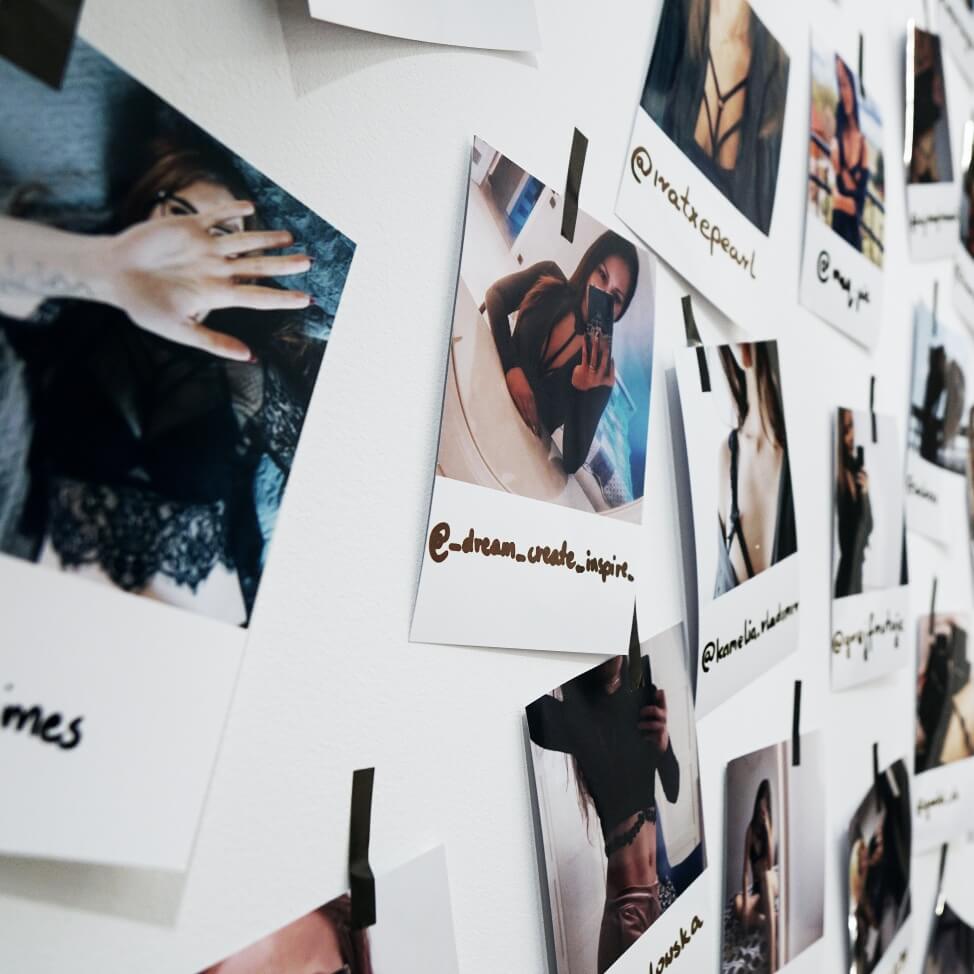 Promees Wall - stay with us in the boutique, permanently!
One of the main points in our store is the wall, where we put your photos in Promees styles with your Instagram nickname. Everyone who is present on the wall has a lifetime discount of -20% on the entire stock in a stationary store!
How to appear on Promees Wall?
Just send us your chosen photo by private message on Instagram @ promees_nawrot2a on, and we'll do the rest. Have you already selected a photo for the wall?
Send them to us now!
Send photos
@promees_nawrot2a
Follow the Promees boutique Instagram and stay updated!
It is a periodic event broadcast live every week from the Promees Nawrot 2a boutique. Each viewer is also a participant, and each participant has the chance to purchase our products with discounts of up to -40%.
Start follow!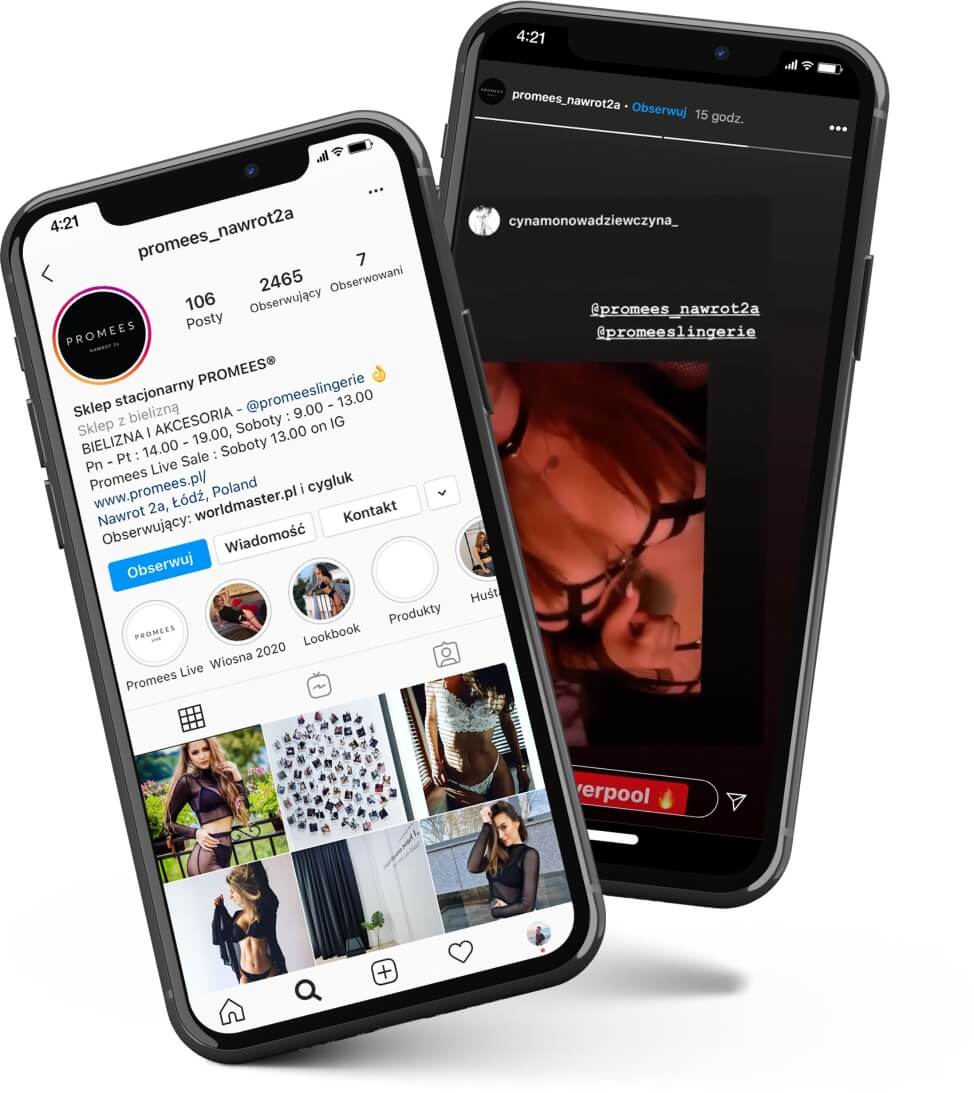 @promeeslingerie
Promees Live!
It is a periodic event broadcast live every week from the Promees Nawrot 2a boutique. Each viewer is also a participant, and each participant has the chance to purchase our products with discounts up to -40%. Promees Live take place every Saturday at 1pm on our  main Instagram account @promeeslingerie. To be updated and know what will be in the next edition, just follow our profile and watch the daily reports on the so-called stories.
During Promees Live, you have the chance to purchase items not normally available for sale, such as straps with Swarovski crystals or items that are not included in the standard sale. You can pick up the purchased items personally or choose to have it delivered to your home.
What's more, you can take part in the auction of products with a starting price from PLN 10. That's not all! During our events, we draw prizes and give away mega discounts, and each live is great fun and an opportunity to get to know our products and the entire Promees brand.
Come to Promees Live on Saturday and join the great fun!
Start follow!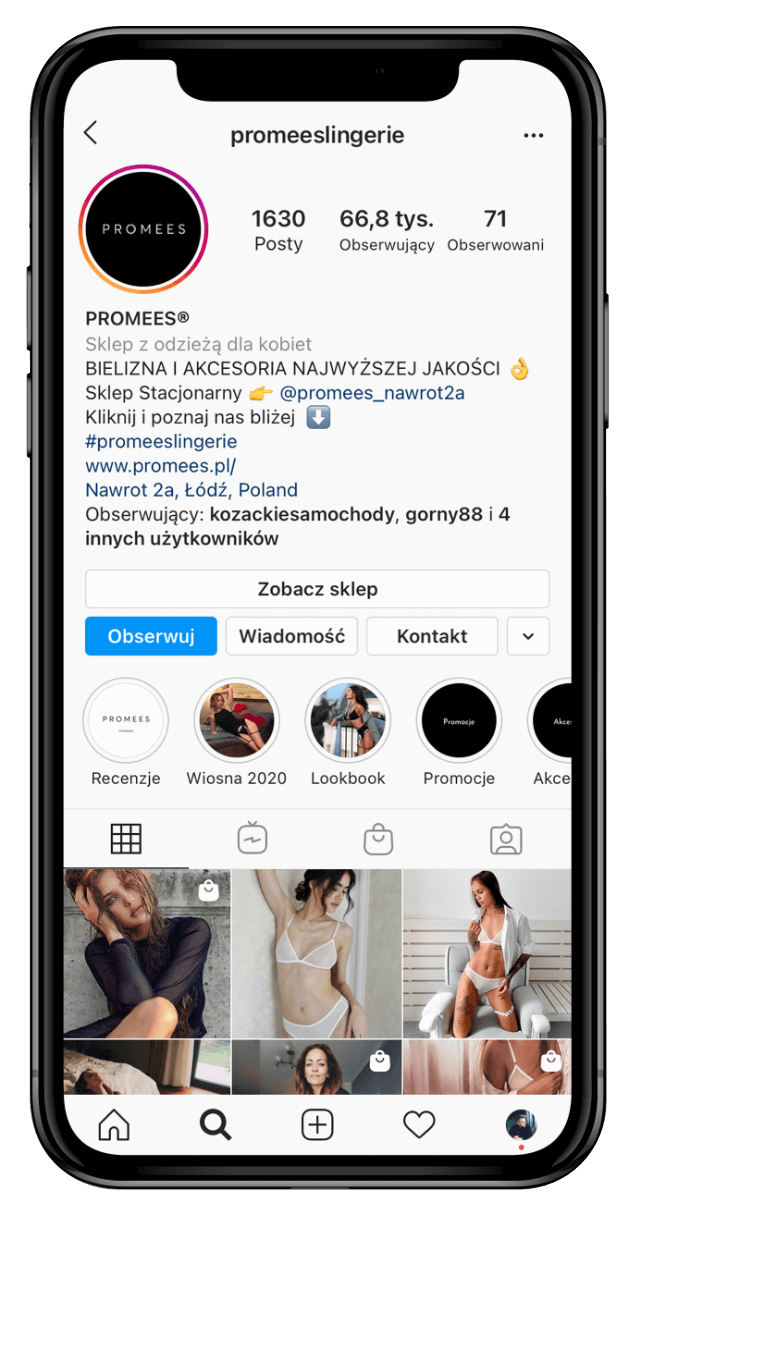 Promees LIVE
Every Saturday
at 1pm!
Check out our boutique in Poland, 2a Nawrot street. If you have a question, call us or write to us using the form below.
Promees Store - Łódź
Łódź, ul. Nawrot 2a
Mon - Fri: 14:00 - 19:00
Sat: 09:00 - 13:00
Opinie naszych Klientów
Source: https://www.google.com
"Miłość od pierwszego wejrzenia" ... Bielizna najwyższej jakości, nosi się rewelacyjnie i jeszcze lepiej wygląda. Miejsce do którego się wraca. Obsługa na najwyższym poziomie. Polecam serdecznie. Do zobaczenia niedługo :))))
Bielizna jest wykonana bardzo starannie, regulowana dzięki czemu można ją z łatwością dopasować do ciała. Ceny są przystępne, obsługa na najwyższym poziomie. Na pewno tu wrócę!
Serdecznie polecamy to miejsce. Mieliśmy okazje być na otwarciu, robi wrażenie. Pozdrawiamy cały team PROMEES :)
Minimalistyczny i elegancki butik z taką też bielizną wysokiej jakości Made in Poland ❤ Obsługa dająca komfort i dbająca o potrzeby klienta - uzyskałam pomoc jakiej się nie spodziewałam. Warto przymierzyć stacjonarnie,gdyż rozmiarówka jest nieco zaniżona .Na pewno tam wrócę
Uwielbiam to miejsce! Świetna obsługa rewelacyjna bielizna. <3 <3 <3
Jestem absolutnie zachwycona! Produkty bardzo dobrej jakości, wygodne, wszystko przemyślane (regulacje itd.), opakowanie przepiękne, wręcz ekskluzywne, przyjemność z rozpakowania jak dla dziecka w święta ;) Kontakt z producentem jak najbardziej w porządku. Z czystym sumieniem polecam, na pewno zamówię coś jeszcze!
Wspaniałej jakości akcesoria oraz bielizna :) i co najważniejsze wspaniałe dziewczyny, które zawsze doradzą i pomogą wybrać coś odpowiedniego na każdą okazję :) <3 .
Swietna obsługa , jestem juz posiadaczką bielizny, Nosi sie świetnie wygląda rewelacyjnie. Polecam !!!
Piękna, zmysłowa i seksowna bielizna. I do tego wszystkiego przemiła obsługa <3